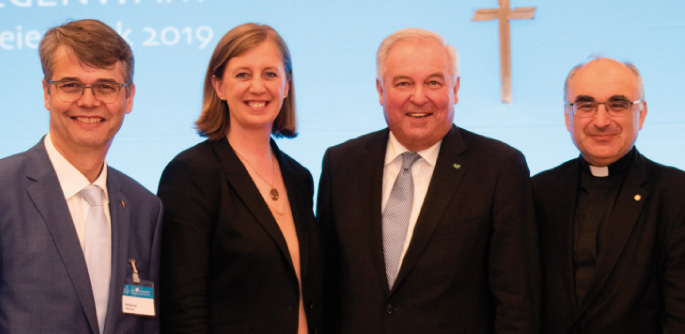 Opening 2019:
Evangelical Superintendent Wolfgang Rehner, State Minister Barbara Eibinger-Miedl, State Governor Hermann Schützenhöfer, Diocesan Bishop Wilhelm Krautwaschl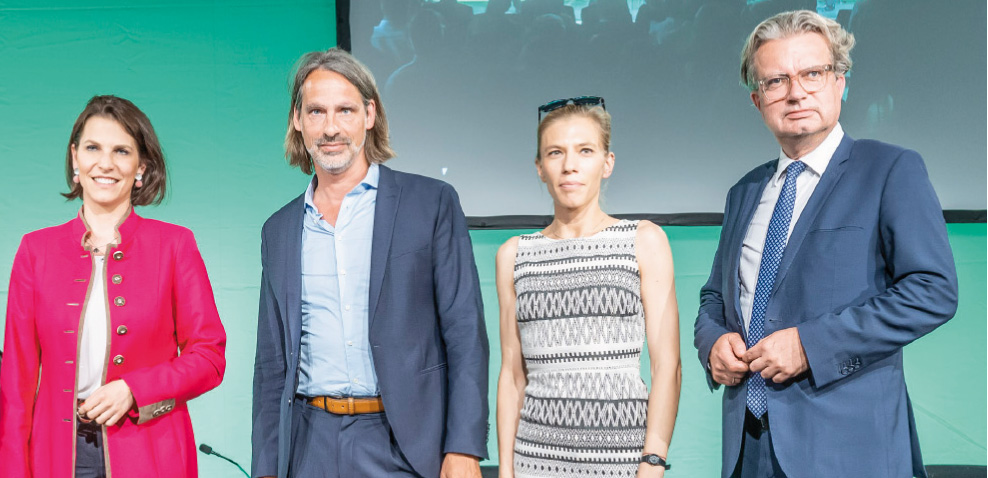 Forum Generale 2022:
Federal Minister for European Affairs Karoline Edtstadler, Richard David Precht, philosopher Lisz Hirn and State Governor Christopher Drexler
The "Geist & Gegenwart" ("The spirit & the present") Whitsun Dialogues that have been taking place at Seggau Castle since 2005 reflect on the challenges and problems facing Europe and aspire to contribute to a sustainable dialogue about a European future. In addition, they always offer an assessment of the current state of "Project Europe", its progress, hopes and opportunities but also the risks and problems ahead.
Thanks to the events held so far, the Whitsun Dialogue has become established as a formal platform for fruitful interdisciplinary and inter­national debate about fundamental principles of science and politics, set in the context of the southern Styrian border region, where four European cultures meet. Styrian universities and research institutions have been actively included from the very beginning.
With keynotes, panel debates and small workshop-style groups, the Whitsun Dialogue offers a diverse range of formats and ways of entering into dialogue, exchanging ideas and gaining a new perspective. Cultural events are also a traditional part of the multi-day programme.
Numerous distinguished personalities from the worlds of science, business, politics, culture, media, religion and civil society regularly take part in the talks, along with young people from all over Europe. Participation programmes for scientists – especially for the next generation of scientists – ensure that the scientific community is always well-represented.
Club Alpbach Steiermark is the sponsor for the initiative and its Chairman Prof. Herwig Hösele serves as the coordinator of the Geist & Gegenwart series. The events are organised in cooperation with the State of Styria, under the leadership of the Department of Science and Research, headed up by State Minister Barbara Eibinger-Miedl. Styrian universities, universities of applied science and research institutions are long-standing partners who are involved in planning the programme, along with the diocese of Graz-Seckau, the Austrian Marshall Plan Foundation and the Austrian Integration Fund, among others.
Since 2007, the Whitsun Dialogues have been complemented by regular dialogue events held in the Main Hall of the Old University in Graz. Outstanding speakers from the worlds of academia and civil society enter into public debate about the major issues of our times, thereby making an important contribution to intellectual life in Styria.
---
Previous general themes:
2022 Green Europe
2021 Reset Europe
2019 Digital Europe
2017 Europe.USA.3.0
2015 Europe.valued
2013 United States of Europe
2011 Narrating Europe
2009 The Taste of Europe
2007 Europe. Dreams and Traumas
2005 The Discovery of Europe
---
Publications
For each "Geist & Gegenwart" Whitsun Dialogue an impulse publication gathering articles by speakers and high-profile experts from science, politics, economics, religion and culture is published by Wieser Verlag.

---
Publication Pfingstdialog 2022